The scariest day of our lives is here.  Anthony has to undergo surgery to get his tumor removed.  We have a team of two surgeons who will be working on him today.  One surgeon will be removing the tumor in his jaw and the other surgeon will be reconstructing Anthony's face back up.  They said the surgery should take all day long. 
The day before the surgery the Oncology doctor warned us that we should not expect Anthony to be the same as before surgery.  This is so heartbreaking because I know that after the surgery our kid is going to be different.  The doctors do not know how Anthony face is going to respond to the surgery.  Since they will be taking his jaw bone out and replacing it, he may have nerve damage and it is possible that his face will not function like it use too.  Because of there may be nerve damage or removal hey may have lack of functionality similar to a stroke patient.  The other major concerns is the surgery itself.  It is very complicated and he will be in critical condition several days after the surgery and he will be fighting for his life to say alive. 
Prior to the surgery day Anthony had to get a Covid-19 test since it is now required for all hospital stays beyond 24-hours.
As we arrive at the hospital early in the morning around 6:00 a.m. it was a strange feeling.  I asked Anthony to just rest on me in the waiting room because in my head I knew there is a possibility that this might be the last time we have with each other.  The doctors then called us into the pre-surgery room and we got to say our final goodbyes before they injected anesthesia so he could sleep.
Here is a picture of Anthony before he got Cancer.  Cancer has damaged Anthony so much, however I'm just glad he is alive right now.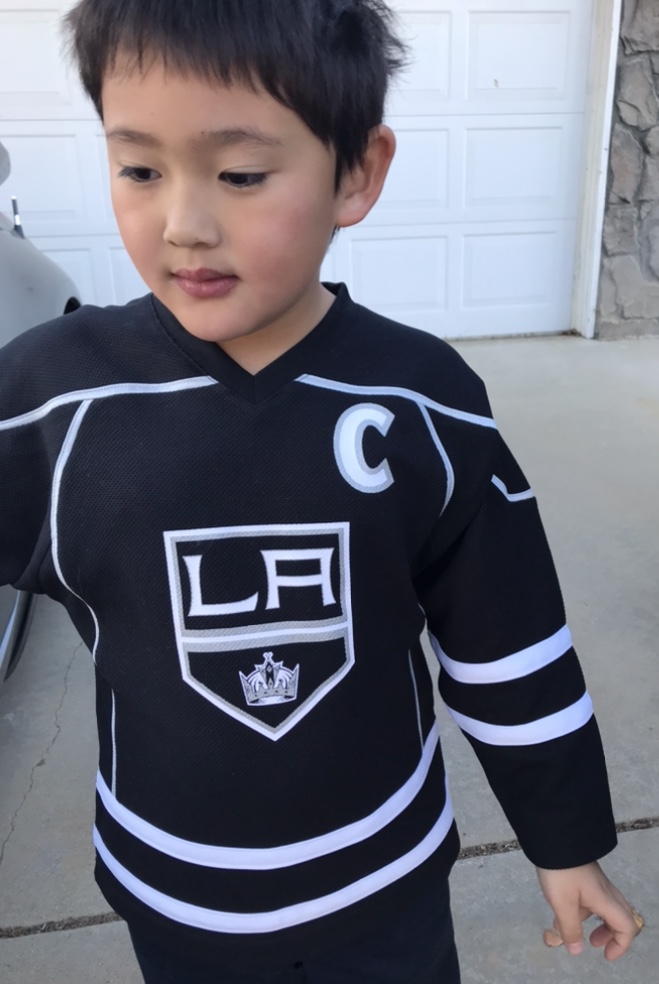 Surgery
The whole day was going by too slow and the morning is over with.  Anthony has been in surgery since 6 a.m. and I finally get a called at 5:30 p.m. saying that the first part of the surgery is complete and the surgeon feels it was successful.  The second surgeon is now starting her part and we should expect it to be several more hours before she will be completed.  Finally at around 8:50 p.m. the hospital calls to let me know that Anthony made it through the surgery and we can come up to the Pediatric Intensive Care Unit (PICU) to see Anthony.
Post-Surgery
I finally get to see Anthony and my heart dropped because of the condition he is in.  Every part of his body has wires, tubes, or monitors attached to him.  He is on a ventilator and he cannot breath on his own.  He looks lifeless and the doctors said they are going to keep him in a state of self-induced coma for around a week.  They told me that Anthony is the most critical condition child in the PICU and that they will be assigning a personal nurse that will monitor and chart him throughout the night.
Day 1 - Post-Surgery (June 15th)
The night has been pretty scary.  Anthony condition is very critical and they a trachea that is sutured into his throat so that he can be hooked up to the ventilator. A trachea is a tube that goes down his throat so that he has an airway to breath.  Normally the trachea is tied around the patients neck, however because Anthony's surgery was on his neck they had to suture it onto this throat directly.  Because of the trachea and because the skin graph had to be attached to major arteries it is the highest priority that Anthony cannot move his head.  This is the main reason why Anthony will be in a self-induced coma for the next 2-4 days.  The night was very calm and out of the blue Anthony came out of sedation and he woke up in a pure panic mode and started to grab for everything attached to him.   The nurse stood up and started to yell in her loudest voice HELP!   I rushed to Anthony and I grabbed his arm while the nurse held him down the best she could.  Within seconds the roomed filled up with nurses and doctors and they started to work on stabilizing Anthony.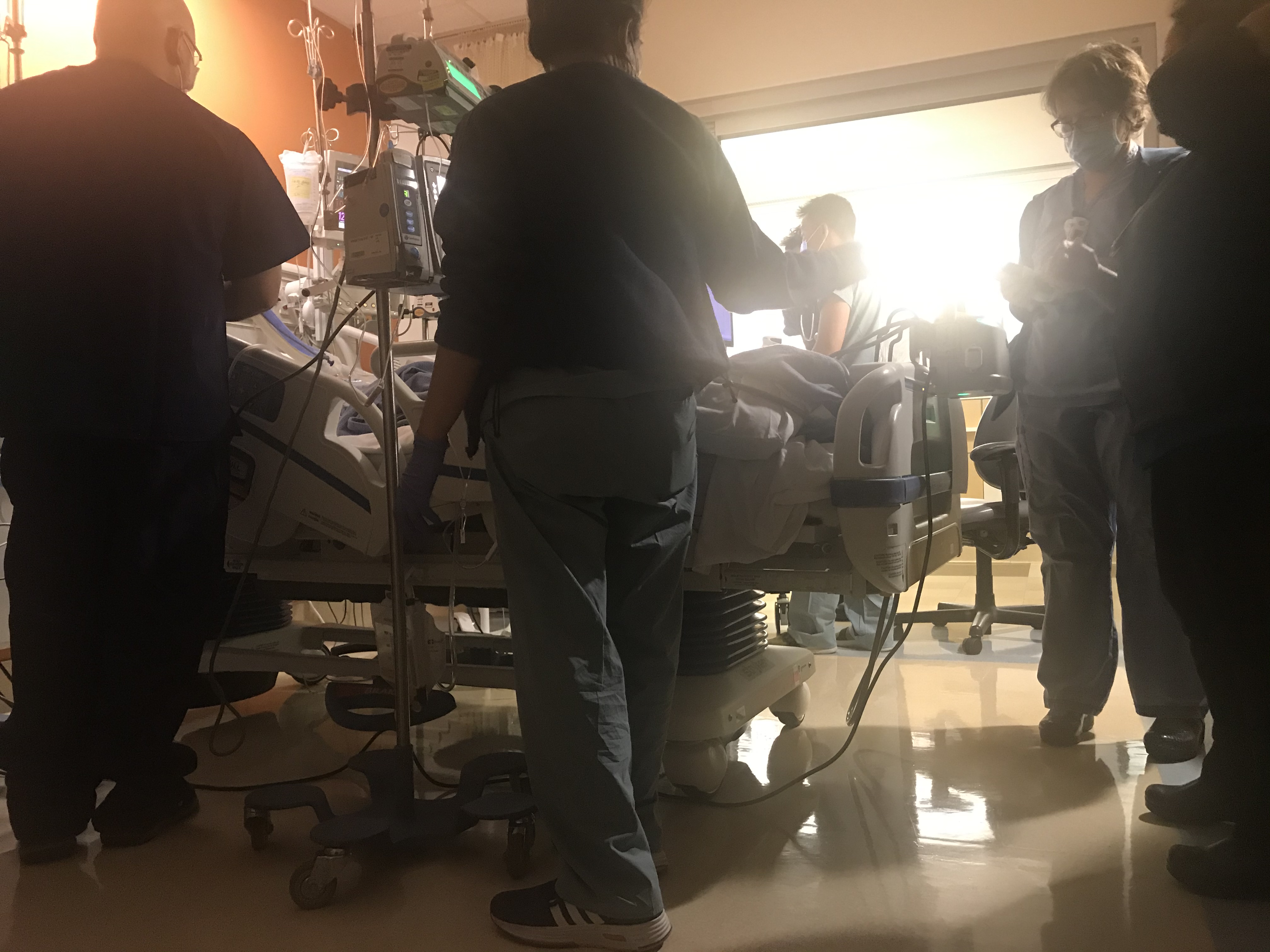 And you could imagine this was super scary and the nurse was in full panic mode.  It took around 30 minutes before things were stabled again and everyone was concerned that he may have did damage to himself and hopefully he didn't rip out any connections into his nerves and arteries.  Even though I was scared out of my mind I felt relived because this was the first sign I have seen that Anthony still has life in him.  He has been completely lifeless since I first seen him after surgery.
Day 2 - Post-Surgery (June 16th)
Anthony is still completely unresponsive and all of his wounds still look extremely bad.  Throughout the day the doctors and surgeons have stopped by a few times a day to look over Anthony.  They are happy with the results and do not see anything major right now.  They are very concern over the trachea and the ventilator he is on.  They want to get him off of the ventilator soon because it will cause damage to his lungs and they are concern that he is not improving quick enough for him to start breathing on his own.  Not much has happened today and Anthony's condition is still extremely poor.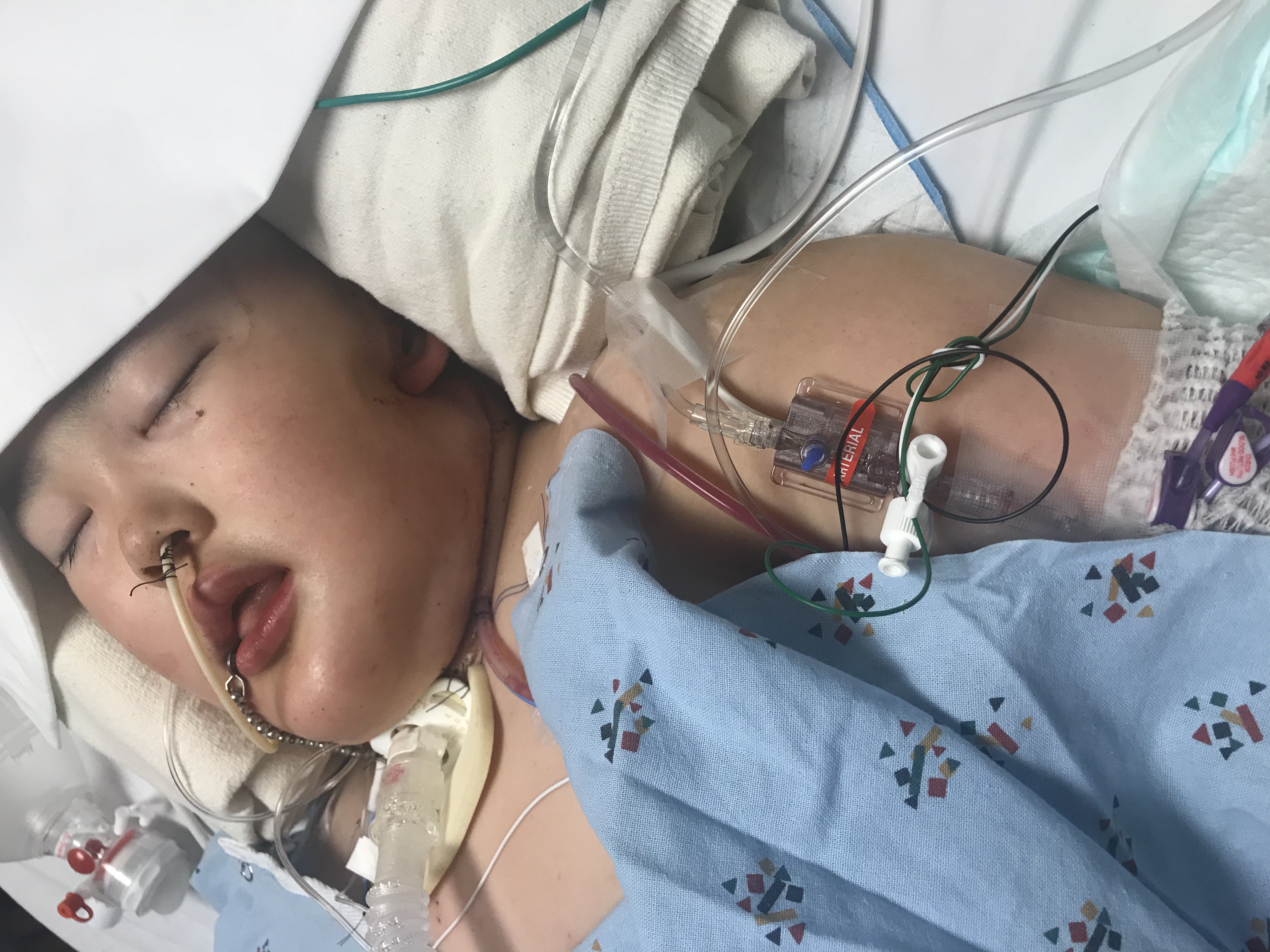 Day 3 - Post-Surgery (June 17th)
Anthony is still unresponsive and still cannot breath on his own. He started to run close to a temperature and the doctors hope that it may just be stress his body is going through from all of the surgery.  The surgeons are very concern because the skin graph in his mouth is looking pale and the machine that sends ultrasonic waves to it is only picking up a faint sound from the blood flow.  He is still in pretty critical condition and everyone is very worried over here.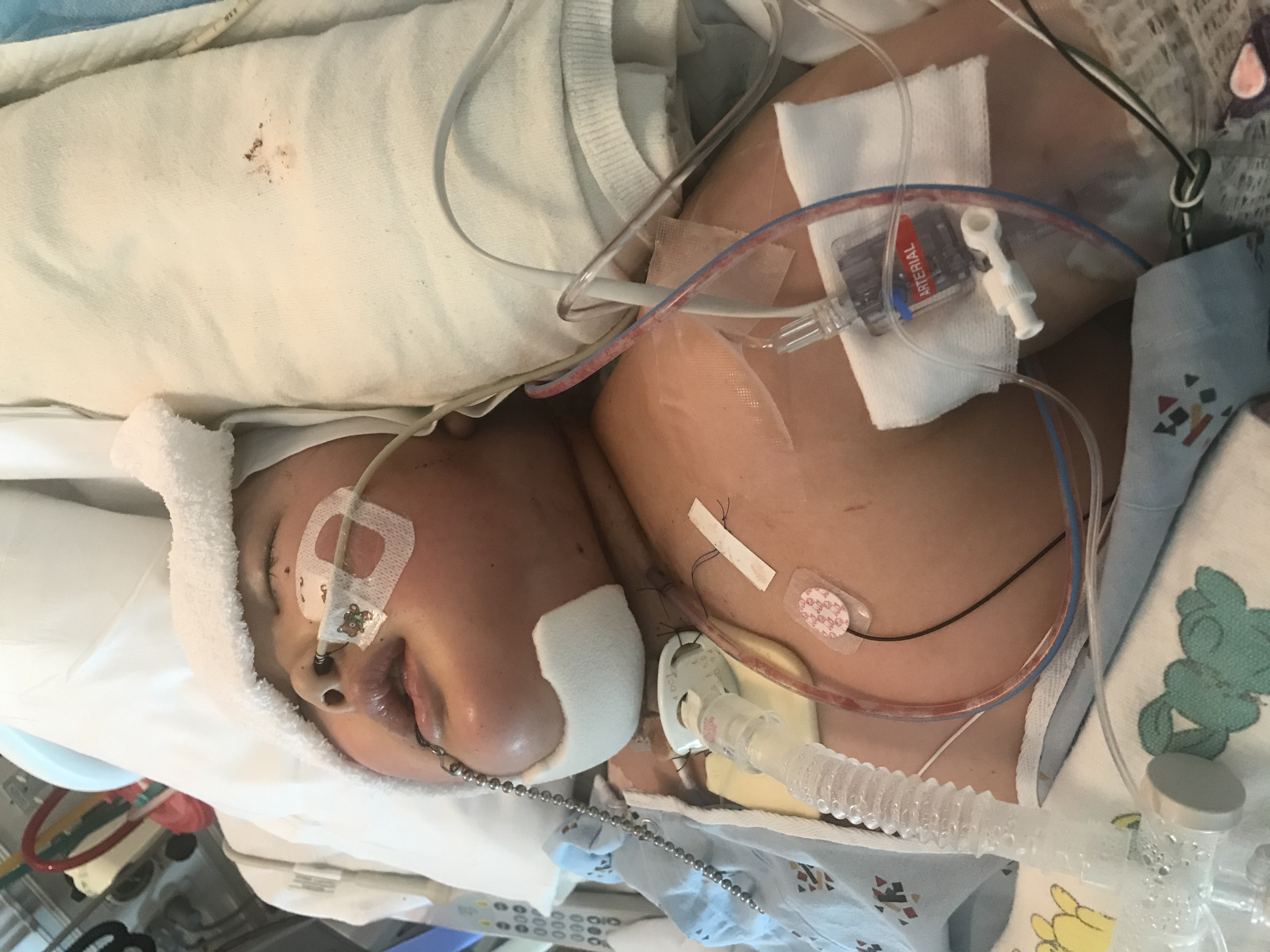 Day 4 – Post Surgery (June 18th)
Today Anthony opened his eye slightly and a tear fell from it and then he went back to sleep.  I told my baby that I know he feels weird and is in a lot of pain, but he just needs to rest.  I'm not sure if he heard me or not, but I hope he will have enough strength to make it through this.   The doctors want to start leaning him off pain meds and they want to slowly try to get him to wake up.  Him being on a ventilator for this long is becoming worrisome because it will slowly start affecting his lungs.  The doctors said they need to try to create a plan that will balance his pain yet keep him sedated enough where he will not tear the sutures out of his neck.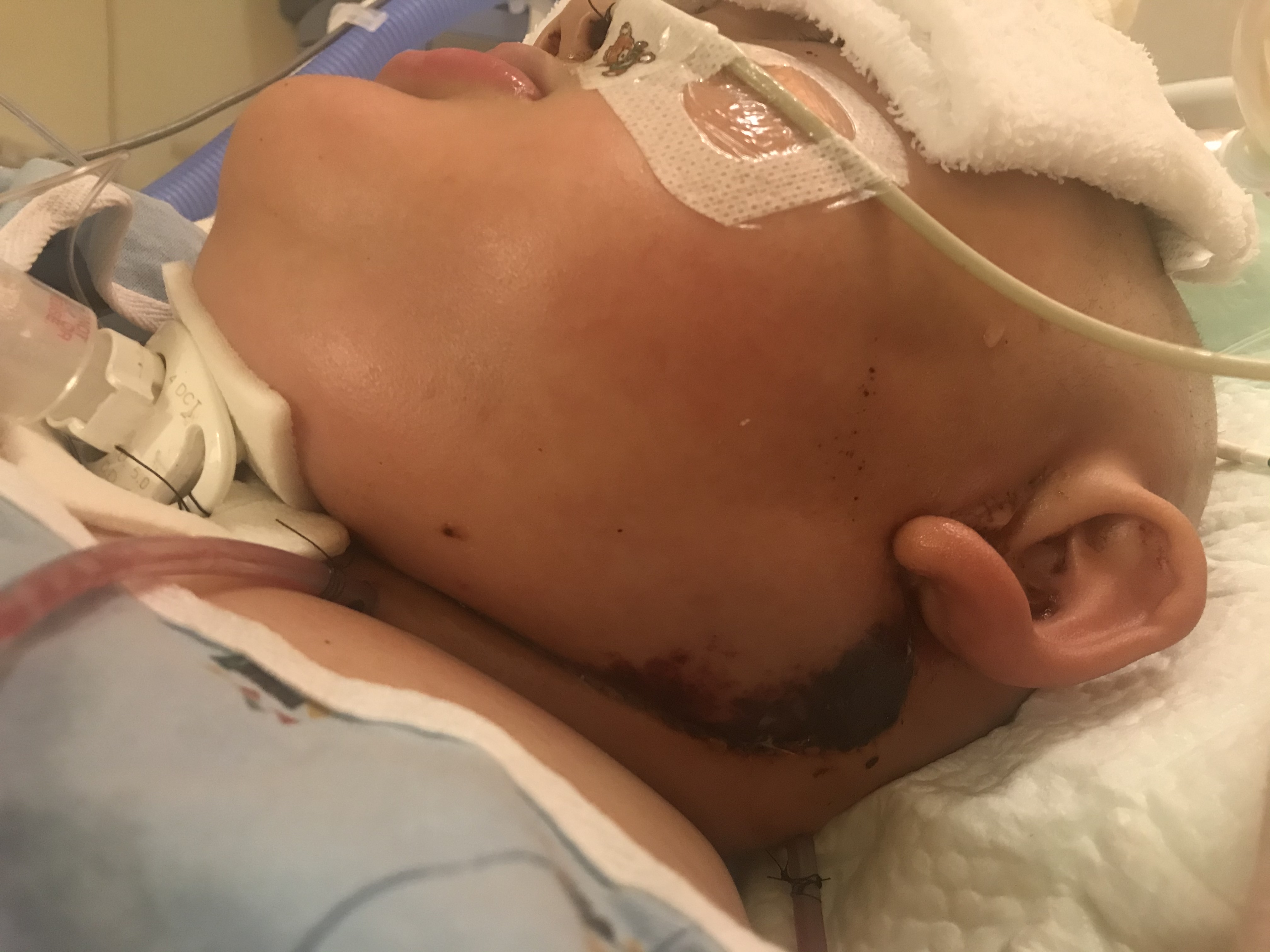 Day 5 – Post-Surgery (June 19th)
The doctors started to lean Anthony off the pain meds however it is not going well.  Anthony is in too much pain and it is causing him to erratically move.  This did cause a minor problem and he tore the stitched out of the trachea.  The surgeon had to do a small beside surgery to reattach it into his neck.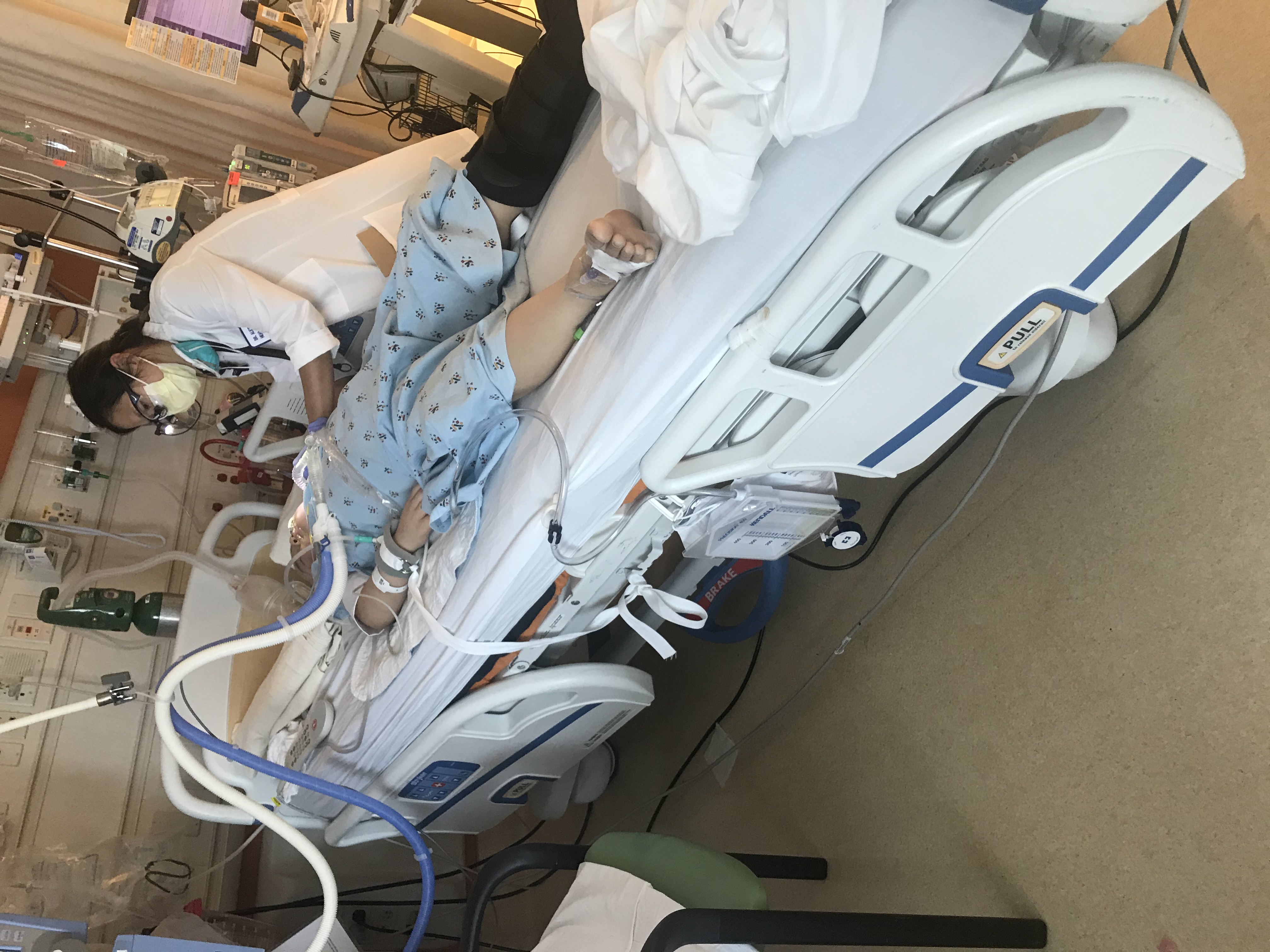 We also are fighting with the staff over here because of Anthony's pain.  They have decided to lean him off the pain meds to aggressively and for over 8-hours he has been aggressively been moving trying to tear all of the stuff off of him.  The nurse has been battling to hold him down and they even have his arms tied down into the bed.  I cannot take this any longer and I had to call the head doctor on site so we can create an alternative plan for this pain that he is in.  They agreed that their plan is not working and will increase the pain meds and sedate him once more.
Day 6 Post-Surgery (June 20th)
Anthony is still in pretty bad shape but you can see improvements.  The doctors are going to start easing off on the pain meds once more.   Anthony responded pretty badly however their whole goal is to try to get Anthony to start breathing on his own because the ventilator is going to do reversible damage to his lungs.  Anthony fought the pain today for a good 6-hours and we all decided he had enough and they sedated him again.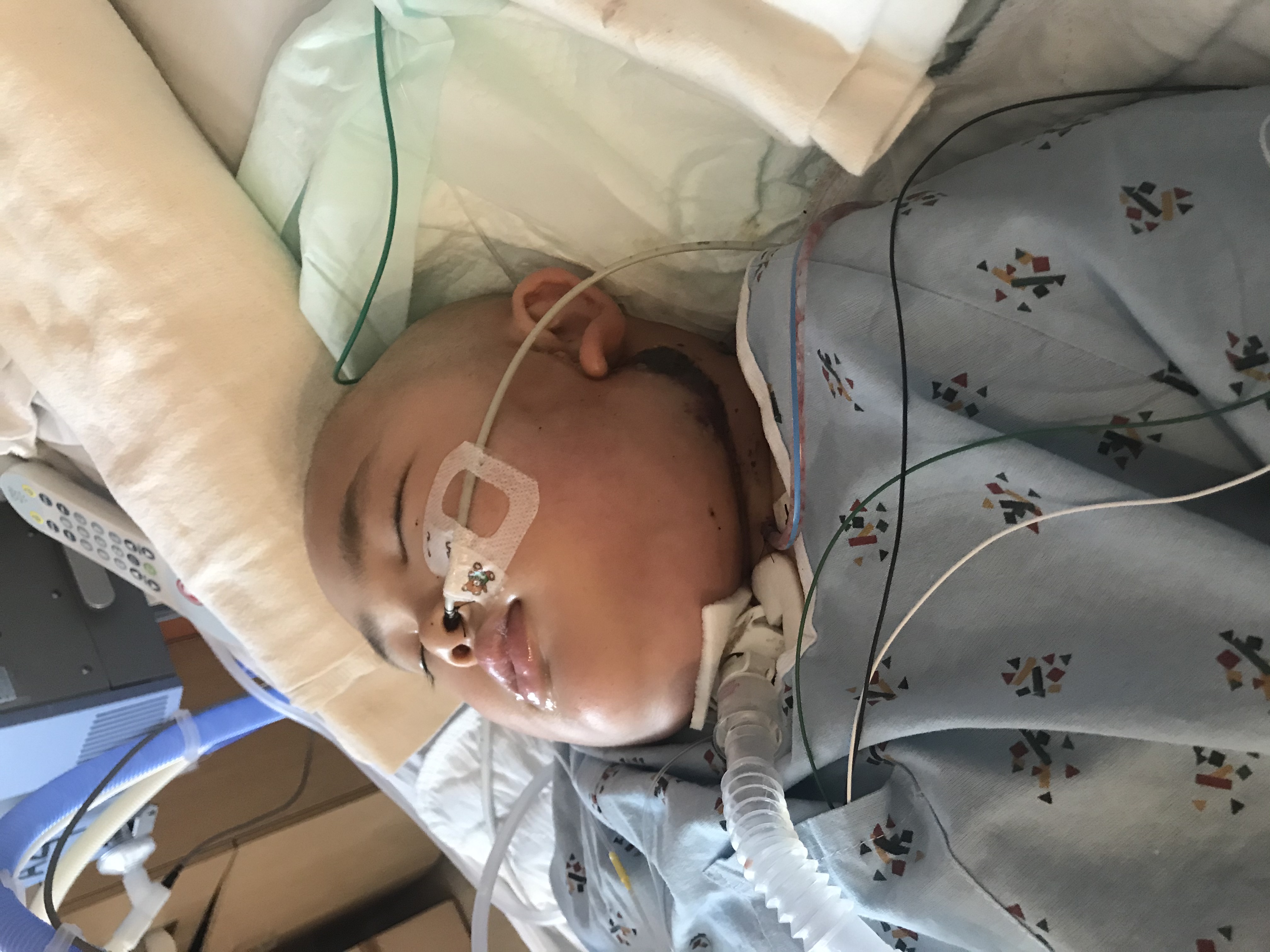 Day 7 – Post-Surgery (June 21st)
Anthony is still not breathing on his own and they need to get him off of the ventilator.  They have seem to have found the balance between the meds where he is not in too much pain but is also not fully sedated. He can open his eyes and he is trying to move his mouth.   He is starting to get life back into him and you can see a major improvement all around with him.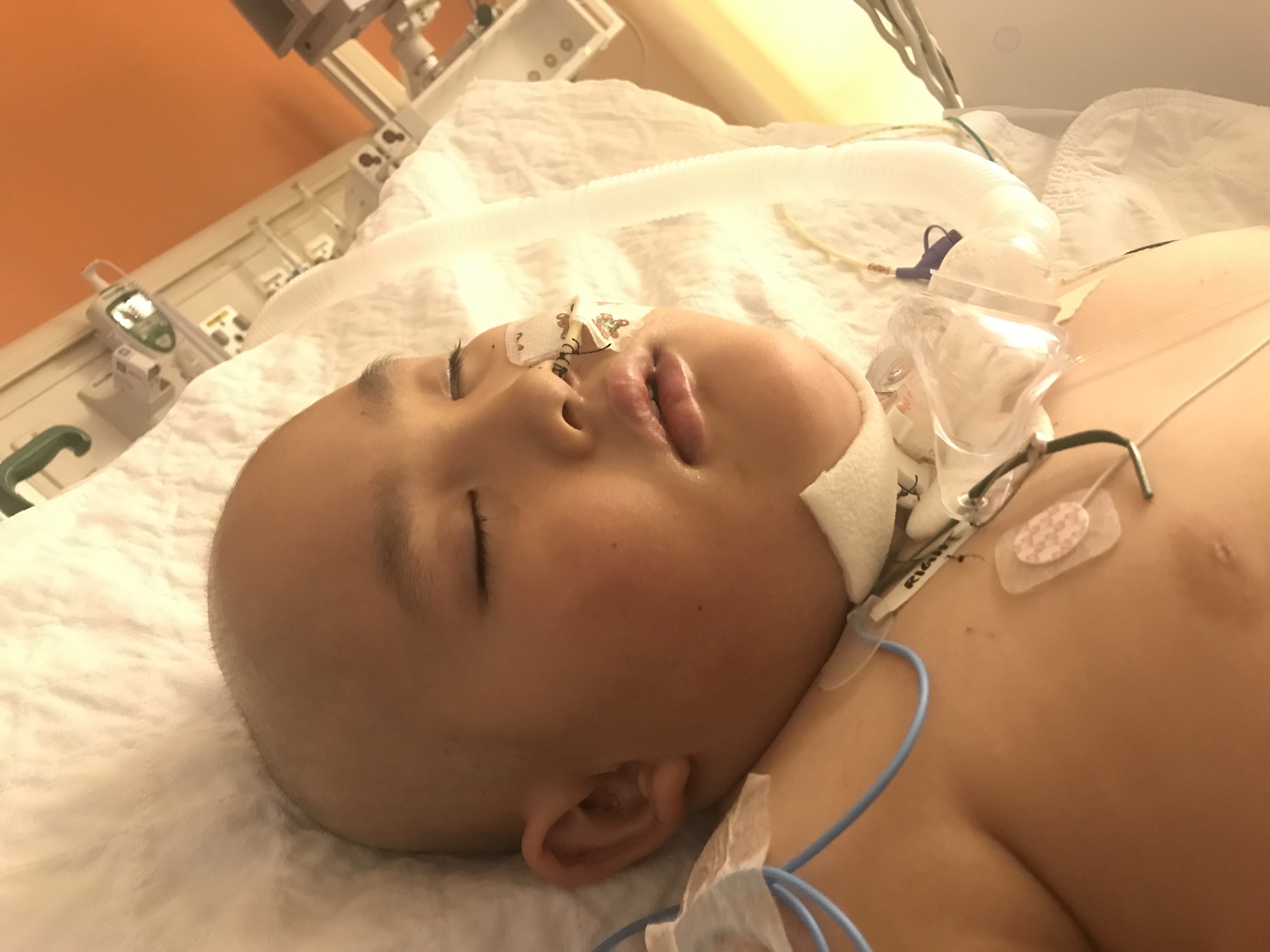 Day 8 – Post-Surgery (June 22nd)
Anthony is trying to talk and his is eyes are open now.  It almost is like something hit a switch and it brought life back into his soul.  The doctors tried to take him off the ventilator however within 20-minutes his breathing patterns went down and they had to hook him back onto the ventilator.  They will try again later on in the day.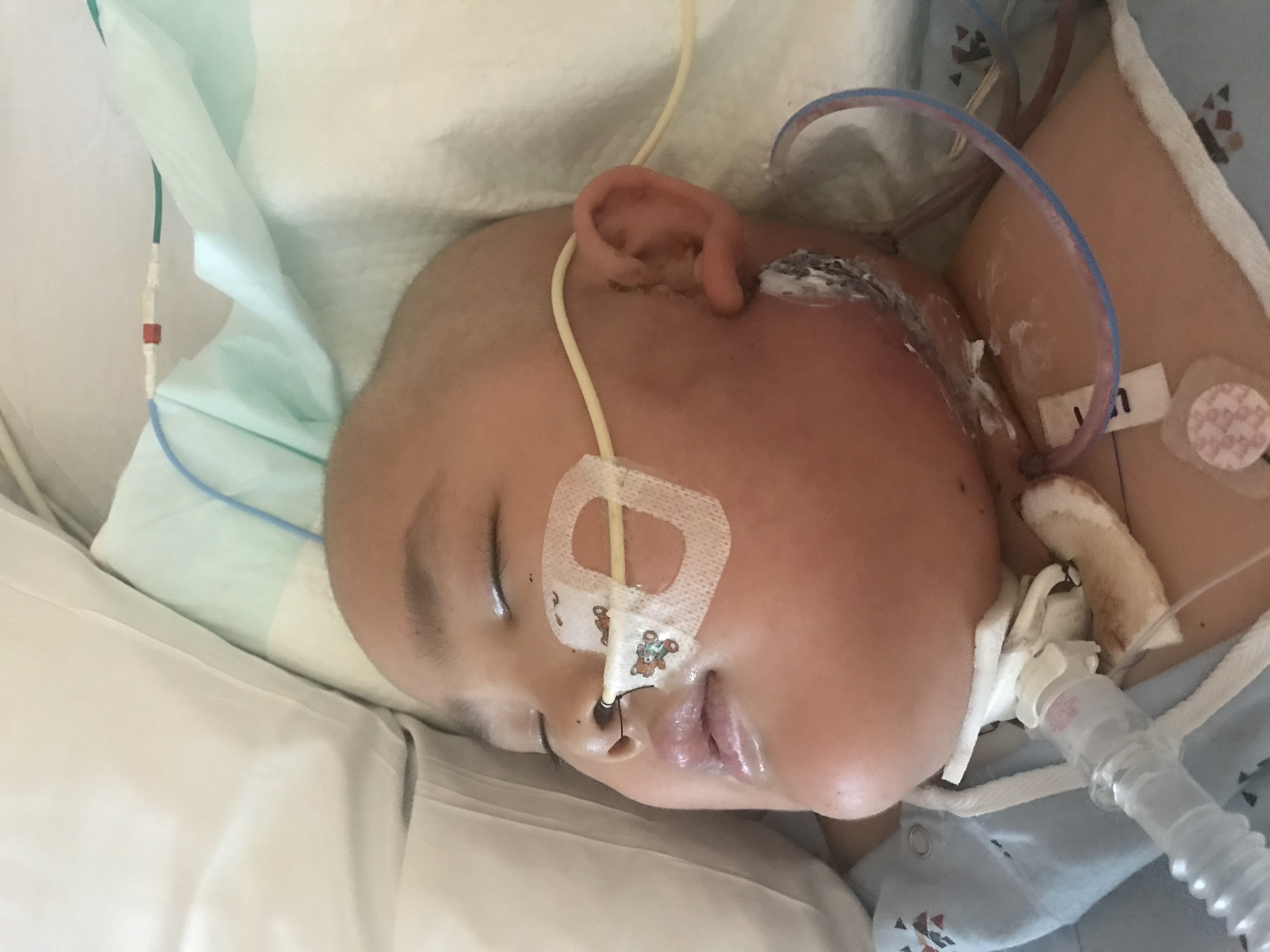 Day 9 – Post-Surgery (June 23rd)
What a difference a day makes.  Anthony is back and he is starting to get stronger.  I can tell he is in so much pain because tears keep coming out his eyes, however he is being super strong for all of us.  The surgeons came in and changed out his trachea to a smaller tube one.  They hope this will allow for his throat to have more clearance to move.   As they took him off the ventilator to see if he can do it, it started to breath with no issue.  We managed to keep the ventilator off of him and just pumped pure cold air into his trachea for the rest of the day.  Today was huge because he is not breathing on his own.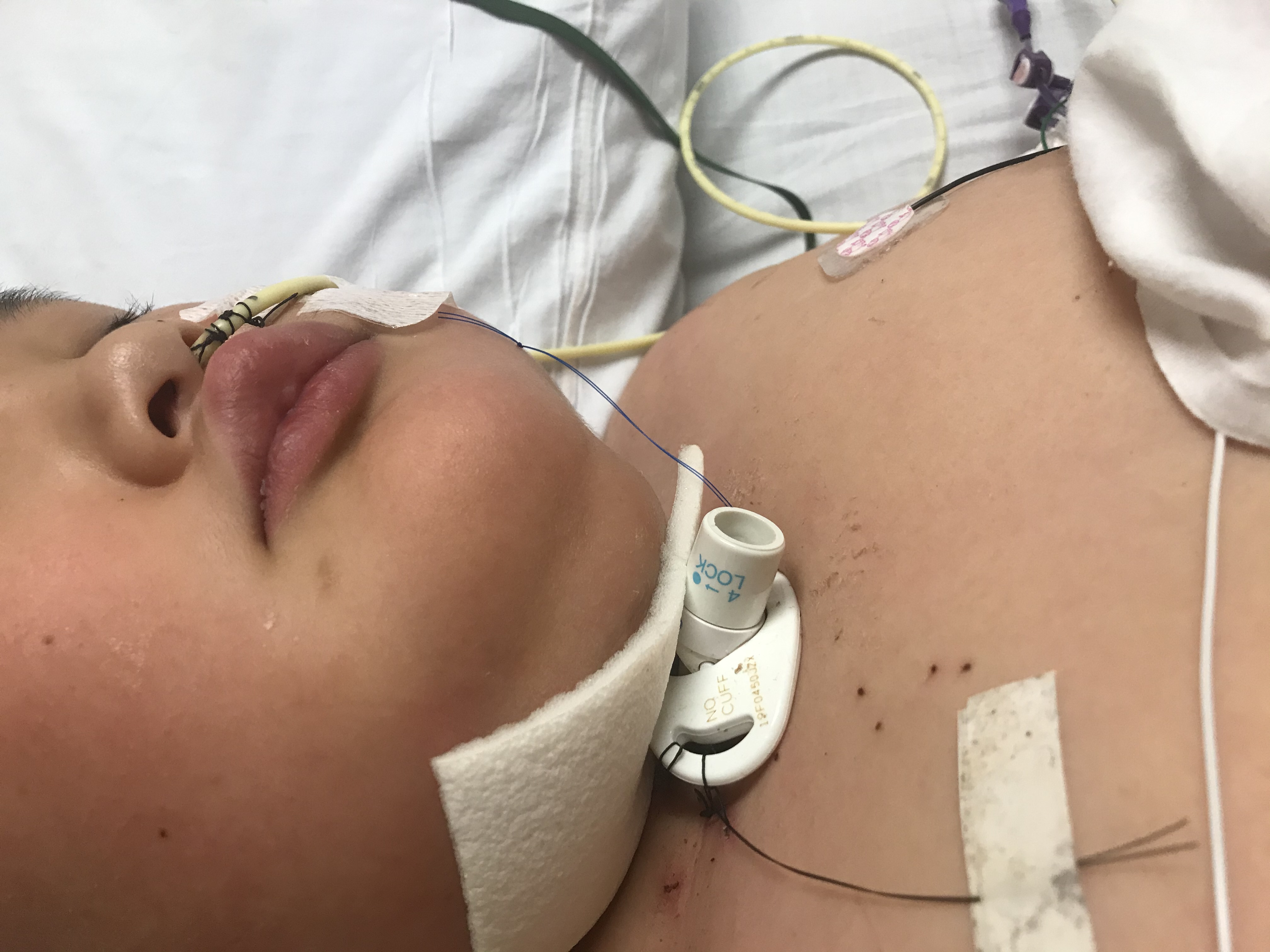 Day 10 & 11– Post-Surgery (June 24th & June 25th)
Day-by-day he is now getting stronger.  He is breathing on his own, he is almost off of all meds and he is now moving and wants to sit up.  He is doing so well we are now leaving the PICU and will be going into our own room in Pediatrics urgent care.  Depression is starting to kick in and Anthony just wants to go home.
Day 12 – Post-Surgery (June 26th)
Today was another huge day.  Anthony started to walk on his own.   The Physical Therapist came in to see if Anthony was willing to start walking.  She ended up leaving and Anthony wanted to start walking on his own.  He got up and grabbed his walker while I held onto him.  He then walked out of the room and started to go down the hall.  The whole PICU was amazed because Anthony has been so unresponsive for the past week.  The whole PICU started to clap and cheer Anthony on and it made him so determine to keep on walking.  It was truly such a blessed and amazing day.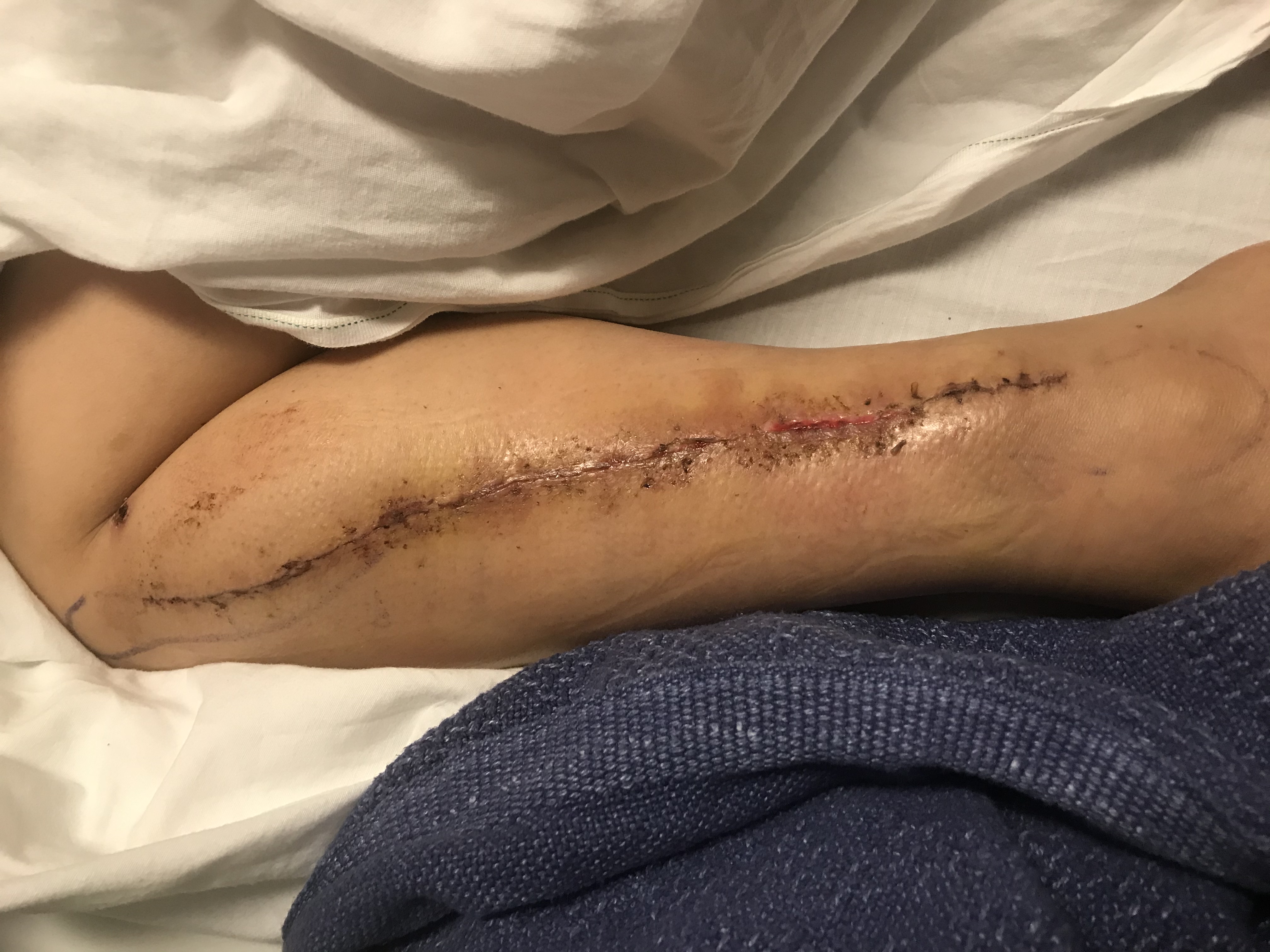 Day 13 – Post Surgery (June 27th)
As Ice Cube would say..."Today is a Good  Day".  Anthony gets to go home and they will be discharging him from the hospital.
Published: Monday, 15 June 2020 21:18
Hits: 0